The Music Marathon is an annual fundraising event sponsored by the Calgary branch of the Alberta Registered Music Teachers' Association. The event's main purpose is to raise money for scholarships and programs for ARMTA students and teachers. As well, the event showcases the benefits of taking lessons from a registered music teacher and provides students with an opportunity to share music with the community at large.
The 2018 Music Marathon will take place at The CORE Shopping Centre in downtown Calgary on Saturday, May 26, from 10:00AM to 5:00PM. During this annual event the audience, families and friends will enjoy beautiful and culturally diverse musical performances.
The CORE | TD Square · Holt Renfrew
324 – 8th Avenue SW
More than 80 talented students will perform on a Steinway Model B piano on a glass stage at The CORE. Thank you to Steinway Piano Gallery for their generous support. Please click here to learn more about the Steinway Model B.
All students who participate will be entered into a draw for a chance to win one of several $50 scholarships.
Sound equipment will be available to amplify acoustic instruments and vocal performances.
Click here to access the Music Marathon pledge form. Donate online here.
Teachers interested in participating may book time slots of 15, 30 or 45 minutes. Registration is free for ARMTA members. Please use the online registration system to reserve your spot in 15-minute increments. The registration deadline is April 25, 2018.
Please click here for detailed information, and contact Chrysanthema Pashunkova with general inquiries.
Parking options:
TD CORE Parkade:  745 – 4th Street SW
Holt Renfrew Parkade: 516 – 8th Avenue SW
Knox United Church (street parking): 6th Avenue and 4th Street SW
Thank you to the following sponsors for their generous support of the Music Marathon: The CORE | TD Square · Holt Renfrew, Steinway Piano Gallery Calgary and RPM Piano Movers.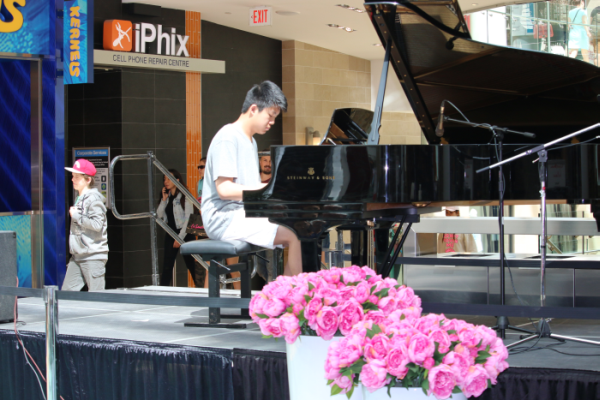 Please click here to view a video from the 3rd annual Music Marathon.
"Thank you to all the participants, teachers, volunteers, sponsors, and Calgary community for making the 3rd edition of our Music Marathon a resounding success. We couldn't do it with you!"
Chrysanthema Pashunkova
Music Marathon Convener